Omaha Masters Swimming
USMS Club # 002-OMAH

Professionally Coached by Todd Samland,
1994 United States Masters Coach of the Year


What happens if the weather is looking a little dicey? Well if you are not sure, call (402) 554-2346. That is the office phone number for Todd at UNOmaha. The voice mail will be updated 30 minutes prior to the start of practice. If you hear the normal "If you like to swim..." message, we must be having practice! It is not often that we cancel practice but it happens every once in a long while. Normal swim schedule. See the "Practice Schedule" link on the left for swim times.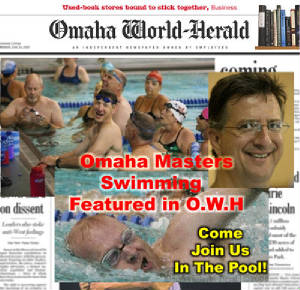 Omaha Masters, for Fitness, Fun, and Friends -- it's more than just swimming!
Featured in the Omaha World Herald!
We swim at the College of Saint Mary, 7000 Mercy Road Omaha, NE 68106-2377 and are grateful to them for supporting our program! Click here to learn more about CSM.



We enjoy swimming, as well as other group gatherings. Come join us for fintess, fun, and friends -- it's more than just swimming.